Previous Gas Safety Weeks
Gas Safety Week 2021
As we entered the second decade of Gas Safety Week, we focused on the theme 'No Excuses', looking at the excuses people use to put off important items like a gas safety check. We worked with Educating Yorkshire's headteacher Mr Burton to emphasise that there were really no excuses for not having your annual check, and set up an Excuses Booth in a shopping centre to hear the public's best efforts. Find out all about the week and supporters activities. 
Gas Safety Week 2020
The COVID-19 pandemic meant 2020's week was a very different one from its predecessors, but no less impactful. This year's theme was community safety. We launched an animated film about a seemingly innocent gas safety mistake with explosive consequences for the local neighbourhood. Read about the week's activities and corresponding results. 
Gas Safety Week 2019
In 2019 we introduced the Gas Safety Squad, launched Bad Nana: Better Gas Safe than Sorry - a fun and informative family story by Sophy Henn, and new research highlighted that 92% of people who look after a vulnerable loved one were not aware of all the signs of an unsafe gas appliance.
Gas Safety Week 2018
Following the success of 2017, the focus was around family matters. Children were invited to take part in a design a gas safety badge competition and a fun activity section was included. Research revealed that 68-88% failed to identify potential signs of an unsafe gas appliance.
Gas Safety Week 2017
Over 7,800 supporters came together for the seventh Gas Safety Week, generating 282 million opportunities to see gas safety messages.
This year's theme was family matters and research revealed that 12 million households are putting themselves at risk by not having a CO alarm.
Gas Safety Week 2016
This year saw a record 6,859 supporters come together to raise awareness of gas safety in the UK.
This year we also cast a light on the more vulnerable people in our society. New research revealed nearly 8 million older people could be at risk from unsafe gas appliances in the UK.
Gas Safety Week 2015
A record 5,123 supporters came together in 2015 to promote gas safety and encourage the public to book their annual gas safety check.
Read how stakeholders and Gas Safe registered engineers helped the gas safety message gain a reach of over 128 million!
Gas Safety Week 2014
In 2014, we introduced you to our Gas Safe Hero, Doug. During the week, Doug toured the country giving out gas safety information far and wide.
We also held a 'My Gas Safe Hero' competition which encouraged children of registered engineers to draw their parents as the heroes that they are.
Gas Safety Week 2013
In 2013, Gas Safe Register created the Gas Map - an interactive tool that allows consumers to enter their postcode to show how safe their area is.
A free reminder service also encouraged people to sign up for an email reminder when their next safety check is due.
Gas Safety Week 2012
In 2012 Gas Safety Week was able to gain support from some of the industry's biggest hitters including retail giants and hundreds of Gas Safe registered businesses.
In total, this support helped us to get a total reach of nearly 140 million.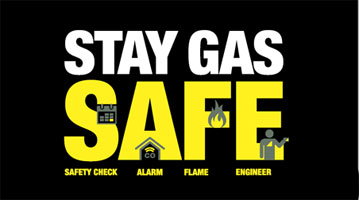 Gas Safety Week 2011
2011 saw the first ever Gas Safety Week in which the whole industry came together to inform the public of the importance of only using a Gas Safe registered engineer.
Ads were placed nationwide on bus shelters and in newspapers to spread the message far and wide.