The home boiler guide
If you have a boiler it's likely an integral part of your home. It is the appliance that heats your water, which is then carried to your taps and, as part of a central heating system, into your radiators providing heating for the home. Discover how you can ensure it is maintained by a Gas Safe registered engineer and stay aware of what to look out for.
Types of boilers explained
Most boilers run on mains gas, but if you're in an area where mains gas isn't available, then a boiler can run on oil, liquid petroleum gas (LPG) or biomass, such as wood or coal, instead.
There are three different types of gas boiler, each with certain distinguishing features. Your Gas Safe registered engineer will be able to give advice on which is the best gas boiler for you and your home.
Combination (combi) boilers
Combi boilers are the most frequently installed type of boiler. They provide hot water, they're energy efficient, and like all boilers they can be very reliable and long-lasting if properly maintained. The way they work means that in many homes there's no need to have a separate hot water storage cylinder. Instead, water is heated quickly after entering the boiler directly from the cold-water main supply - and this means they can be cheaper to install too.
Advantages of combi boilers:
They provide on-demand hot water.
There's no need to heat a hot water cylinder and no need to worry about it running out.
They're reliable Combi boilers can be more cost effective to install than other boiler types
Hot water is supplied at mains pressure
They're often more compact than other types of boiler depending on make and model
Disadvantages of combi boilers:
Depending on the combi boiler that is installed:
If incorrectly designed, on-demand hot water means there can be a problem with hot water supply to taps if more than one tap is being used at a time
Water flow can be reduced, so filling a bath can take longer
Lack of mains water pressure/ flow could affect the hot-water performance
Conventional or regular boilers
Also known as regular or open vented boilers, these use both a hot water cylinder to heat up and store the hot water. They're ideal if you're likely to need hot water from more than one place in your home at the same time - for instance, if you have multiple bathrooms. However, if the hot water runs out, you may need to wait for it to reheat.
Disadvantages of conventional boilers:
Conventional boilers work very well in larger homes where there's often a need to use more than one tap at once
Disadvantages of conventional boilers:
They don't provide on-demand hot water
If incorrectly designed, hot water can run out or there can be low water pressure/ flow if multiple people are using it at the same time
They take up more space; you'll need room for a cylinder and water tank too - no water cistern needed if an unvented hot water cylinder is used.
Installation can cost more due to the need for both a cylinder and tank, but this depends on the design of the system
Sealed System boilers
These are similar to conventional boilers, because a sealed system boiler is a closed system that only requires a boiler and a cylinder, whilst a regular boiler requires a storage tank in the loft which supplies water to the hot water cylinder and a separate expansion tank to supply the water to the radiators. Sealed systems apply to all boiler types and relates to the fact there is no feed and expansion tank in the loft.
Advantages of system boilers:
There's no requirement for separate water tanks in the loft unless it's an open vented system hot water cylinder.
Disadvantages of system boilers:
They don't provide on-demand hot water
Space is needed for a hot water cylinder
They can be more expensive to install than a combi boiler
Boiler regulations
As a heat-producing appliance, your boiler must be one that is approved as safe and appropriate for use under Building Regulations, which are designed to make sure buildings are safe to use and live in. These regulations also relate to energy efficiency too; under Building Regulations approved document L1 (A/B), domestic boilers installed in existing dwellings must have a minimum efficiency requirement of 92% under the Energy related Products (ErP) directive and in new dwellings a SEDBUK 2009 efficiency of 88%. For boilers installed in buildings other then dwellings please see Approved Document L2. 
If your engineer has installed a new boiler then the relevant local authority needs to know about it so a Building Regulations Compliance Certificate can be issued. Please note that this is not applicable to those in Scotland. 
Your engineer should notify the local authority within 30 days of completing the installation via Gas Safe Register Engineer Portal, but if you're a homeowner it's also up to you to make sure your engineer has done this. Here's what you need to do to check or order a replacement certificate.
How is boiler efficiency measured?
Until 2009, the UK used a grading system from SEDBUK (Seasonal Efficiency of Domestic Boilers in the UK). A modern boiler would score an A; an old pilot-light boiler would typically be a G.
From 2009, the SEDBUK scale was replaced by the ErP (Energy-Related Products Directive) scale. On this scale, a new boiler would generally score an A or A+; an older appliance with a pilot-light boiler would be more like a C or D.
An example of an ErP rating is as below: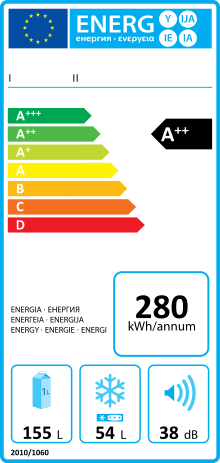 Boiler maintenance
Getting your gas boiler serviced is crucial to keeping it in good working order. Take a look at your boiler's manufacturer guidelines to find out how often a service is recommended, and if you don't have access to these, we'd advise getting your boiler serviced annually – or in line with the manufacturer's guidelines.
Although your gas boiler should be serviced in line with manufacturers instruction, it's a good idea to get your gas boiler serviced ahead of the winter period, if not already done so. Any unplanned breakdowns could leave you without heating when you need it the most and it's often a busy period for Gas Safe registered engineers.
Boiler maintenance tips
There are a few things you can do in-between services to look after a boiler and help prevent breakdowns. Follow our tips to take care of your gas boiler:
Check the central heating system water pressure where applicable - Boilers can lose system pressure as they age. Check the pressure gauge and top it up if it's too low
Bleed excess air from your radiators - You can tell if your radiators need bleeding if they're colder at the top than the bottom, meaning excess air is trapped in the system. This will put additional strain on your boiler

Note that if you need to do this regularly it's likely hiding a wider issue and you should ask a Gas Safe registered engineer to check the system

Lag the pipes - When it gets very cold your boiler's external condensate pipe can freeze and your boiler will cut out. You can prevent this by asking a Gas Safe Engineer to insulate your condensate pipe
Even with proper care and maintenance on your part, the best way to keep your gas boiler going is by having it regularly serviced by a Gas Safe registered engineer
What does a boiler service involve?
During the service your Gas Safe registered engineer will make sure there are no faults with your gas boiler and that it's operating safely, efficiently and effectively, as required by the appliance manufacturer's instructions. To do this, they'll carry out a range of checks and tests in line with the manufacturer's instructions.
What is a boiler service report?
After your engineer has carried out the service, if asked, they can issue you with a service report detailing all the checks that were made and any work that was carried out as a result. This report is also known as a Gas Safety Record and, while it's good practice to provide this, it's worth noting that it isn't a legal requirement. You can find more information about this on our Gas Safety Records page.
What to do if you experience boiler problems
There's no good time to encounter an issue with your boiler, but it's most likely to happen during the colder months after you switch on your central heating following a prolonged period without use.
If you are experiencing boiler problems, it's useful to be able to provide your Gas Safe registered engineer with some initial details before they come to inspect your appliance.
Signs of common boiler problems
Here are some of the more common signs and symptoms which may indicate your gas boiler has an issue:
Intermittent heat or hot water
Kettling
Leaking water
Pressure loss
Boiler switching itself off
Pilot light switching off
If you have any concerns that your boiler is not functioning as you'd expect it to, you should contact a Gas Safe registered engineer.
How to tell if my Gas Boiler is unsafe?
Some gas boiler problems are particularly serious and could put you and your family at risk. If you can smell gas, can see visible scorching, sooting or black marks, can see a floppy yellow pilot light or if you've or anyone in your household has been feeling unwell and experiencing headaches, nausea or dizziness, it's crucial to act quickly.
Carbon monoxide (CO) is a highly poisonous gas produced by the incomplete burning of natural gas or liquefied petroleum gas (LPG). This can happen when a gas appliance has been incorrectly fitted, badly repaired or poorly maintained.
CO can be deadly and is especially dangerous because you can't see, taste or smell it, and some symptoms mimic the effects of viruses and even a bad hangover.
Here's what to do in a gas emergency. https://www.gassaferegister.co.uk/what-to-do-in-an-emergency/
Important industry contacts
Whether you have a gas emergency or need to get in touch with someone for advice or information, look at our list of gas industry contacts to find the help you need.
Frequently Asked Questions
Boiler not registered with Gas Safe?
If your gas boiler wasn't registered with Gas Safe Register at the time of installation, we would advise that you contact the installer to notify the appliance, providing they can still do so.
If the original business that completed the installation is no longer running, another company will be able to come and notify the boiler for you. Ensure that you clearly explain the situation and have all the details of the previous installer available where possible.
The engineer should then be able to notify the relevant local authority via Gas Safe Register website so a Building Regulations Compliance Certificate can be issued, this will be at the discretion of each engineer/business and it would be their decision to notify on your behalf, please contact an installer to discuss this.
If you're buying a new home, we'd advise getting your appliances gas safety checked before you move in, for peace of mind that your boiler and all other gas equipment is working as it should be.
How can I check my boiler's Building Regulations Compliance Certificate?
It's easy to check if your gas boiler has been notified and issued with a Building Regulations Compliance Certificate. Just use our form to fill in your house name or number and postcode to find out. You can order a replacement certificate through our site too. The Building Regulations Compliance Certificate is an important document for homeowners, and it's worth bearing in mind that if you're selling your property, you'll need to provide the new owners with a copy.
If the notification you are searching for relates to work carried out before 1 April 2009 you will need to contact CORGI Services Ltd on 01256 548040 or click here to email.